The Power of Diversity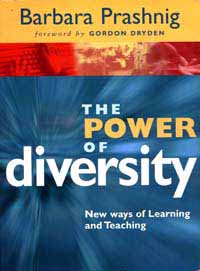 Everyone has a unique style of learning, thinking and working. However, very few people learn or work in a way which is best for them. The Power of Diversity has been written to help people discover their preferred way of learning and in turn help them to succeed.
Designed as an easy-to-read workbook, this book introduces the concept of learning styles and explains the important part these styles play in the new learning revolution in education, business and sport. There are also examples from schools and educational institutions around the world that have adopted Barbara's work, and the results of their efforts to incorporate diverse learning styles are discussed.
The unique 'suggestopedic' layout, with narrower columns of text for speed reading and the left-hand page graphics, and exercises to test the readers own learning styles make this book both fun to read and useful. The Power of Diversity will appeal to educators, parents, students and trainers alike.
Educator? Student? Business person? Trainer? If you only read one book on the unique factors that make up your colleagues, students or family, make it The Power of Diversity. You will be amazed at how different we all are, how these differences can impact our levels of success in education and business, and how simple it is to make alterations to bring us 'in sync' with our inbuilt bio-physical preferences and style features.