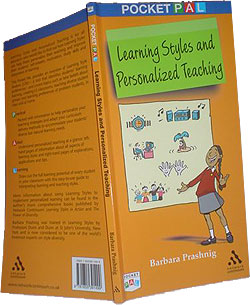 Pocket PAL

Learning Styles and Personalized Teaching
By Barbara Prashnig
Published by Network Continuum 2006
Pages: 96
For teachers: A Quick Introduction into Learning Styles, Classroom Arrangement and Behaviour Management
This slim pocket book (10cm x 20cm) is aimed at educators worldwide. It provides an overview of how to improve studentsí study skills, self-confidence and motivation with the help of Learning Styles.
The Learning Style Analysis (LSA) as described in this book goes far beyond the usual visual-auditory-tactile classification, by identifying 49 elements that contribute to the way in which students take in, process and retain new information.
The book covers topics such as false beliefs about learning, teaching diverse groups, creating multi-sensory classrooms and tips about how to handle challenging students.
Pocket PAL: It's an easy-to-use guide to Learning and Teaching Styles, and easy to carry around or keep on your desk for instant referencing.
Practical - Packed with information to help personalise your teaching strategies to accommodate your students' learning needs.
Aided - Understanding at a glace. Left-hand pages filled with visual aids, right-hand pages with information.
Learning - Let every one of your students fulfil their learning potential.