INTERPRETATION MANUAL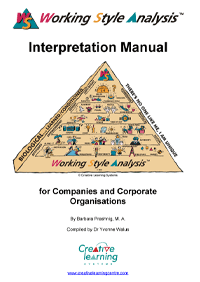 PURCHASE
for Optimum Productivity
Barbara M. Prashnig, Emeritus Professor, MA
compiled by Dr Yvonne Walus
Every individual prefers to work in a different way, and their efficiency is vastly enhanced when they can do this in their favoured conditions. This manual will assist you, as a manager or employee, to create the most appropriate work environment for every staff member. (The WSA software will have already identified the individual preferences of your staff, all you need to do is cater for those preferences.)
In order to obtain maximum benefit from the Working Style Analysis, we suggest the following approach:
For managers and business owners:
Analyse your employees' individual Working Styles and create their group profile using the WSA software online. (For obtaining WSA profiles, click here)
Read the recommendations included in the Working Style Analysis Interpretation Manual and see how many of them you are able to implement.
Analyse your own unique Working Style using the WSA software.
Compare how closely your Working Style matches that of your employees.
Ask yourself: is there any area at work in which you can achieve better communication or more efficiency?
For Employees:
To achieve performance improvement, please share and discuss your WSA results with your manager, supervisor, trusted colleagues, or team members.
Compare how your style features match your work or team situation, and find out where there are mismatches.
Creating an Action Plan by yourself or with a colleague or manager can help you to focus on individual areas of your working style you want or need to improve.
If you follow the recommendations in the Personal Report section you will experience better work performance and greater job satisfaction.
Pricing:
---

WSA - Interpretation Manual
Quantity
Unit Price (€)
1+
59,00